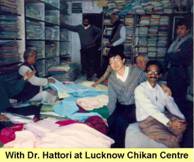 It was my childhood dream to visit USA. After I registered myself for the Ph.D. program in I.V.R.I., visiting USA for higher studies was always there in the back of my mind. After completing Ph.D. when I came to Sanjay Gandhi PGIMS, Lucknow, the chance of going abroad became even brighter. I met Dr. Hattori in SGPGI, who had come all the way from Japan to teach us recent advances of molecular biology techniques in January 1994. After the training program he was very keen that I should join him in his lab in Japan. However, I told him that I want to go to USA for my post doctoral study. He told me that that is not a problem. As he has many friends in US he can help in find a suitable position. But my luck was bad. Just after this incidence I went home for my marriage and there I fell sick because of an adverse drug reaction. I was bed ridden for months and lost contact with the research world for years. My chance of visiting USA faded away.
I rejoined SGPGIMS in 2000 and started to research on cancer. Then I met with Dr. Hina Fatima of the Huma Cancer Society. I started my work on alternative cancer therapy HUMA and after about 5 years of pain staking effort our work was acknowledged. My abstract on "Effect of HUMA on oral Cancer patients," was accepted for presentation in the World Cancer Congress in Washington DC in 2006. However, reaching USA was a big problem as I did not get any financial assistance. However, the Huma Cancer Society provided the much needed financial help. It was because of Dr. Hina that I could finally visit USA and make the presentation. Dr. Hina Fatima and her sister Fiza Fatima also accompanied me to US. We were lucky to stay with Dr. A Ansari in Washington DC. Dr. Ansari is a very successful doctor in Washington DC, he is practicing there for over 30 years. His Manson where we stayed had over 30 big rooms and a swimming pool. He took care of all our expenses over there. My friend Dr. Gouri Sankar & Dr. Aakansha were also in Washington DC and they took care of our tour and travel. As in Washington DC it is very difficult to move around without your own transport. We stayed in Washington DC for about a week. We could visit the various museums, Capitol Hill & the White House and National Institute of Health. Both Gouri Sankar and Aakansha guided us in our sight seeing ventures.      
Memories of my USA visit 2006
In 2007 Dr. Hina Fatima & I again visited USA. We were invited by the Office of the Cancer Alternative & Complementary Medicine (OCCAM) to present our research work on alternative cancer medicine HUMA in National Cancer Institute-National Institute of Health, Bethesda, Maryland. The National Cancer Institute (NCI) through Office of the Cancer Complimentary & Alternative Medicine [OCCAM] - Best Case Series (BCS) Program provides an independent review of medical records, imaging, and pathology of cancer patients treated with unconventional therapies. The goal of the NCI BCS Program is to identify preliminary evidence of tumor regression and assess whether there is sufficient evidence to move forward with NCI-initiated research. We presented some case reports of cancer patients who responded to Huma Therapy. Few cases were considered promising where marked regression of cancer was observed with the alternative therapy.  The endorsement of OCCAM about the usefulness of the alternative therapy in cancer treatment was a big boost for us. After the presentation was over we visited relatives of Dr. Hina living in Chicago. We spent few days with them. Chicago is one of the most beautiful cities of US and we enjoyed our stay over there.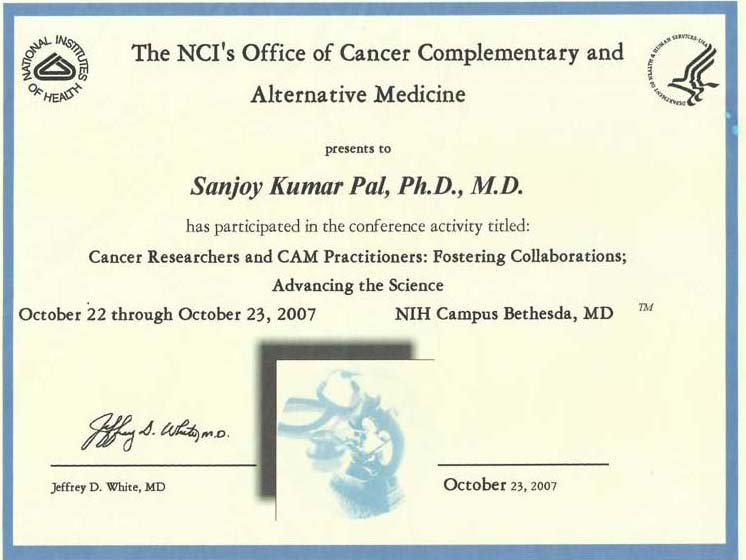 Memories of my USA visit 2007