My first exposure to bench research started when I started my doctoral research project on genetic characterization of indigenous Guinea Fowl (Numida meleagris) germplasm in 1989.
After I finished my doctoral research I joined department of Medical Genetics, Sanjay Gandhi Postgraduate Institute of Medical Sciences, Lucknow for my post doctoral training. I joined Prof. S S Agarwal in his Indian Council of Medical Research sponsored project entitled: Feasibility of introducing genetic services among national family welfare programme. The project involved thalassemia gene screening of pregnant women.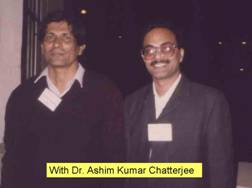 My first exposure to clinical research started from the clinic of Dr. Ashim Kumar Chatterjee, a well known cancer physician of Kolkata in 1998. I followed over 200 cancer patients with advanced disease treated by Dr. Chatterjee. Marked regression of cancer without any serious side effect was observed in many. I compiled clinical reports of 15 such patients where remarkable response of this alternative therapy was observed and sent it to the Office of the Cancer Complementary and alternative Medicine (OCCAM), NCI-NIH, USA for the Best Case Series Presentation in 2002.  Dr. Chatterjee was later invited from OCCAM for further discussion about his alternative cancer therapy.
1. Lancet Oncology 2002; 3 (7): 394 – 395.
2. Asian Pacific Journal of Cancer Prevention 2005; 6: 125-129.
3. Oral Cancer VI. Macmillan India Ltd. pp 297 - 300.  1999. 
4. [Click here to see presentation].
In 2000, I rejoined department of Gastroenterology, Sanjay Gandhi Postgraduate Institute of Medical Sciences (SGPGIMS), Lucknow. I worked with Prof G Choudhuri in his Indian Council of Medical Research sponsored clinical trials on Hepatitis C from 2001 - 2005. Hepatitis is a major health problem in India. The current treatment protocol involves combination therapy of interferon with ribavirin. However, ribavirin is known to have side effects. A multi-centric trial was under taken to study the effect of glycyrrhizin vis-à-vis ribavirin in the treatment of hepatitis C. I was Research Associate and responsible for patient recruitment, assist Prof. Choudhuri in the clinical management of patients, filling of case record forms, day to day monitoring of patients for adverse events, maintenance of various logs and coordination with the sponsoring agency for data management.  And other routine activities associate with the smooth functioning of the project.
1.  Current Science 2002; 83: 1058 - 1059.
2.  Journal of Gastroenterology and Hepatology 2004; 19 (Supplement): A713.
3. Journal of Gastroenterology and Hepatology 2004; 19 (Supplement): A706 - A707.
4. Indian Journal of Gastroenterology 2005; 24 (Suppl 1): A79 – A80.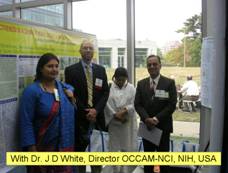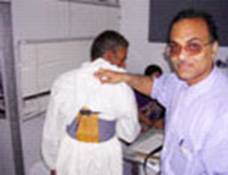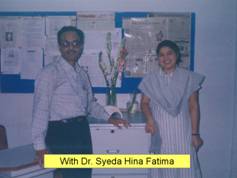 I got associated with the 'Huma Cancer Society' in 2000. The Director of the society Dr. S Hina Fatima is well known for her herbal cancer therapy 'HUMA' in Lucknow. With her I started a prospective observational study on the effect of this herbal therapy in the treatment of advanced stage cancer patients who had been refused treatment in Sanjay Gandhi Postgraduate Institute of Medical Sciences, Lucknow. I also assisted her in the clinical management of many cancer patients. I followed some patients for over 5 years. A compilation of 20 patients where marked regression of cancer/lesion was observed was sent to OCCAM-NCI for the Best Case Series Presentation in 2005.  Dr. Fatima and I were invited from OCCAM to present our research findings in 2007.
1. [Click here to know more about Huma Therapy].
2. Elements 2006; 4 (1): 12 – 16.
3. Journal of Cancer Research and Therapeutics 2006; 2: S23 (PP23).
4. The Indian Journal of Medical Research 2005; 121 (Supplement): 153.
In 2005, I was awarded a project from Indian Council of Medical Research entitled:  A pilot study to assess the popularity, effectiveness and adverse effects of various complementary and alternative medicines (CAM) tried by patients with advanced gastrointestinal tract malignancy in north India. Many forms of Alternative Cancer Therapies (ACT) are popular in northern India. However, very little is known about their clinical efficacy and toxicity. The aim of my project was scientifically evaluation of these ACT.
1. [Click here to see presentation].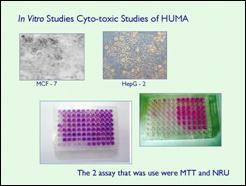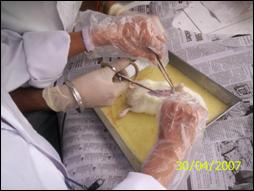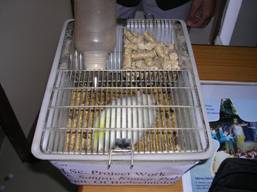 I joined Sardar  Bhagwan Singh P.G. Institute of Biomedical Sciences and Research, Balawala, Dehradun in 2006. There for the first time I initiated work on the anti-cancer properties of certain herbal and homeopathic medicines in animal model and cell lines.
1. Proceedings of the 27th Annual convention of Indian Association for Cancer Research, held at Gujarat Cancer & Research Institute, Ahmedabad from February 7 – 9, 2008. PP 30.
In 2008, I joined Ipca Traditional Remedies Pvt. Ltd., Mumbai. There I was responsible for write research reports on migraine, anaemia, haematological cancers etc., treated with Ayurvedic medicines. I also compiled case reports of 13 cancer patients treated with Ayurvedic Medicines of Vaidya Balendu Prakash for the Best Case Series Presentation in NCI-NIH, Bethesda, MD, USA in 2009.
1. Journal of Ayurveda & Integrative Medicine 2010; 1 (3): 215 – 218.
2. Journal of Alternative and Complementary Medicine 2010; 16 (2): 205 - 211.
3. Integrative Cancer Therapies 2013; 12(6): 453.
In 2010, I got a chance to work in Haramaya University, Ethiopia. Contrary to my expectation I was made in-charge of the Genetics Lab. Though the lab had all kinds of equipment to do molecular biology work, however, procurement of bio-chemicals was a big problem. As most of the expensive chemicals had to purchased from abroad; hence, availability was a problem. However, I could somehow initiate biochemical polymorphism work over there.
1. Veterinary World 2014; 7(4): 229-233.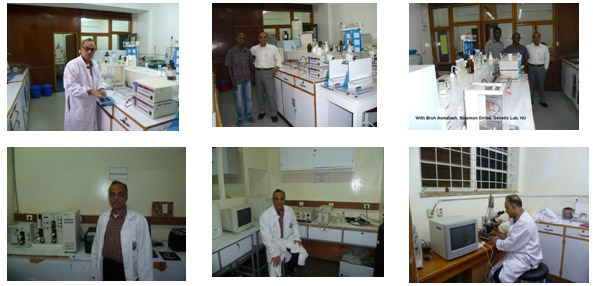 In 2014, I started working with Centre for Advance Communication, located in STEP, IIT Kharagpur. It was a start-up company working towards the spread of e-education in India. I like the idea of e-education and was associated with the company for 2 years.
1. International Journal of Advanced Research in Education & Technology 2015: 2(4): 112 – 115.
2. International Journal of Applied Research 2015; 1(8): 190-193
LIST OF PROJECT  HANDELED / WORKED
 Funding Agency /
(Year)

Project Title

I.C.M.R,  New Delhi
(2005 – 2006)

A pilot study to assess the popularity, effectiveness and adverse effects of various complementary and alternative medicines (CAM) tried by patients with advanced gastrointestinal tract malignancy in north India.

I.C.M.R,  New Delhi
(2004)

Multi-centric, open randomized controlled clinical trial of combination therapy with ribavirin and oral glycyrrhizin in decompensated HCV-induced Cirrhosis. [PI: Prof. G Choudhuri]

I.C.M.R,   New Delhi
(2001 - 2004)

Multi-centric double blinded randomised control trial of interferon with ribavirin and combination of interferon with glycyrrhizin in management of chronic hepatitis C. [PI: Prof G Choudhuri]

Lady Tata Memorial Trust, Mumbai
(2000 – 2001)

Study of the molecular events associated with carcinogenesis of gall bladder.

D.B.T, New Delhi

Toxicity evaluation and application of standard genotoxicity test in the assessment of environmental pollution. [PI: Dr. D Kar Chowdhuri]

I.C.M.R, New Delhi
(1993 - 1994)

Feasibility of introducing genetic services among national family welfare programme. [PI: Prof. S S Agarwal]