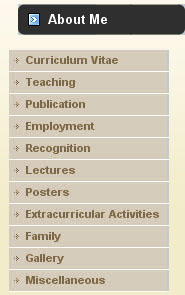 Memories of Bhopal
January2018
I came to Bhopal from Kharagpur in 1981 to continue my higher studies in science stream.  I did my schooling, graduation and post-graduation studies from there.  I stayed with my aunt (Masi) and uncle (Meso) in their house in 126-B,Indrapuri. My Masi was like my second mother, she was my guide, friend and Guru. It was her guidance and brotherly help of my cousin Sujit that I could reach where I am today.Masi was like a good friend to us (Sujit& me) and with her we could discuss many difficult topics and even taboo subject like sex. She was open for any discussion and we used to spend hours on discussion. I was initially very nervous and shaky with little self-confidence; however, with constant inspiration from Masi, Meso and Sujit I got completely transformed and could complete my higher studies. I learnt many things from Meso, and the most important amongst them was the time management.  He used to tell that 'the work done is not important, how it was done is important.' He was very meticulous in his work and from him I learnt the art of planning and work execution. He served as a Senior Manager in the Bharat Heavy Electrical Limited, Bhopal.  

I had some beautiful memories of Bhopal. The city of Bhopal is one of the most beautiful and cleanest cities of India. There are some nice movie halls in the city and movies were a major attraction for us. All in the family was a huge fan of movies and almost every week we used to see a new movie. Moreover, we used to get student's concession and the overall cost of the tickets was one-third of the original ticket. During the summer vacation when my cousin sisters (Mamoni di, Tunu di and Runu di) and their family used to come to Bhopal we all used to have a great time together. Almost every other day we had party at home or went to a hotel for dinner. In the 80s TV was a prime attraction and we seldom missed any movie that was telecasted on Doordarshan. The next important thing that we all enjoyed was the Durga Puja at B.H.E.L. Kalibari. During the puja days hit Bengali movies of 60s and 70s was shown. It was nice watching them as in the 80s that was the only way to watch Bengali movies. The next important thing during puja days was the 'Tambola,' over 500 to 600 people played this game at a given time and the full house prize money sometimes crossed Rs. 5000.

My college days especially when I was doing my MSc. from University Teaching Department, Bhopal  University (Now Barkatullah University), was the most beautiful phase of my life. I was lucky to get some very good friends and teachers, all of whom had made my life in Bhopal memorable. However, one very important thing that my Masi always told me was that going along with girls is not bad, but don't indulge in any act that can damage your character.  Also, she always supported me and never restrained me from going outside.Regularly, I used to returning home very late at night. She helped me out of the way on all occasions. It was her deep faith on me that I never indulge in any unsocial activities.     

I had some very good friend in Bhopal,apart from my MSc. batch mates,Babuda, Bibhasda, Sankar, Uday Kaku & Kakima, Bithidi, Tukudi, Banerjeeda, Nikhil Kaku&Kakima, ShipraBoudi who helped me a lot when I was doing my studies and later when I came to Bhopal after my marriage. Especially, Babu da helped us a lot and was like my elder brother.  
My association with Bhopal is over 36 years, till 1997 I was directly associated; however, after that I visited Bhopal occasionally whenever possible.  It was only to see Masi, later whenMeso expired and Masi sold the house and came to Mumbai and stayed with Tunudi, I seldom went to Bhopal. Now it seems that my association with Bhopal has come to an end asMasi left for heavenly abode on 4th November 2017. She went to Bhopal for some Bank related official work and there she became very sick and was hospitalised. However, with all best efforts she first went into a coma and expired soon afterwards. The charm of visiting Bhopal is no more and I am sure that I am not visiting Bhopal soon. However, there are so many beautiful memories I have of Bhopal that I will always cherish.