Meeting Important Personalities
Meeting the Grandfather of Indian Agriculture Late Dr. R H Richharia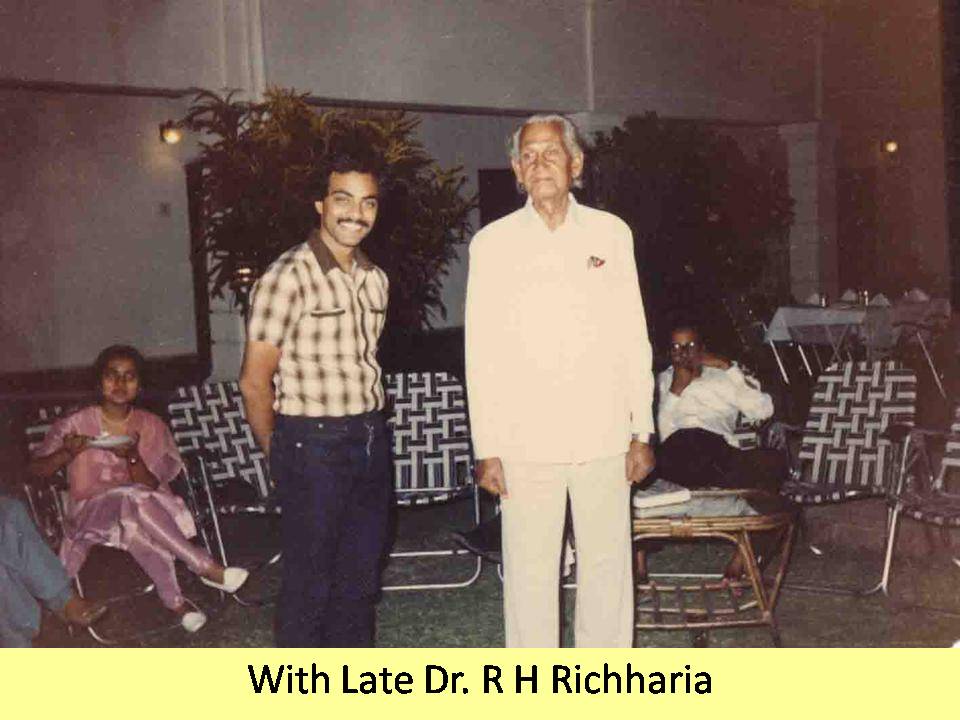 I got a chance to meet Dr. RH Richharia in 1987 in Bhopal. He was the former director of Central Rice Research Institute (CRRI), Cuttack. He took up this position in 1959. Dr. Richharia is best known for his conservation efforts of the indigenous rice varieties of India. He fought with the scientists from the International Rice Research Institute (IRRI), Manila for preservation and propagations of eco-friendly indigenous seed varieties which can give high production without any chemical fertilisers and pesticides. However, it was the era of pre 'Green Revolution,' and there was a huge difference of opinion between him, the IRRI scientists and the politicians. After he was forcefully retired from service, Dr. Richharia went to the Orissa High Court, where for three years, alone, he fought a legal battle that ruined his family, disrupted the education of his children, and brought tremendous strains on his wife's health. The legal battle was successful, for in 1970, the Court ordered his reinstatement as director of the CRRI. He had redeemed his honour, but at a very high cost. We now know that Dr. Richharia was right from the very beginning, bur in this process we lost almost 20,000 indigenous rice varieties. I had the opportunity to hear all these stories from him. He will always remain sources of inspiration to me.
Some article on Dr. RH Richharia:
• The Great Indian Genetic Robbery

• Without Comment - The Great Indian Genetic Robbery
• Rice formula on the back burner


--------------------------------
Meeting the doyen of Indian Agriculture Prof. M S Swaminatha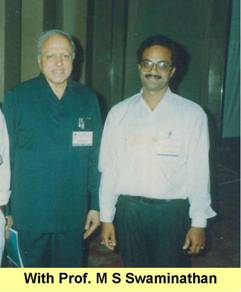 I got chance to meet the doyen of Indian Agriculture Prof. M S Swaminathan in the XX World's Poultry Congress held at New Delhi from 2 -5 September 1996.The venue of the conference was Taj Hotel. The conference was a grand affair. This was my first exposure to a World Congress. The arrangements were fabulous. There were many parallel scientific sessions. The quality of presentations was of very high standard. I had a chance to meet Prof. Swaminathan during the poster session.
--------------------------------
Meeting Prof. V Shanta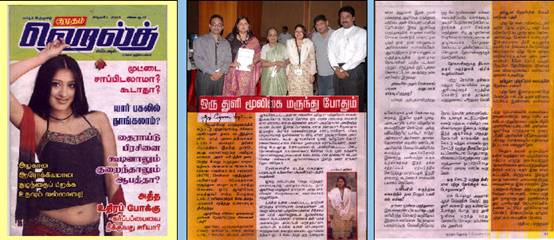 I had a chance to meet Prof. V Shanta, Chairperson, National Cancer Institute, Chennai during the 6th INCTR Annual Meeting. She personally visited our poster on HUMA cancer therapy and encouraged us. 
--------------------------------
Meeting Dr. J D White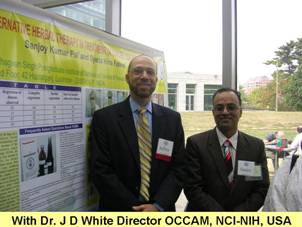 I had a chance to meet Dr. J D White, Director of the Office of Cancer Complementary and Alternative Medicine (OCCAM), National Cancer Institute – National Institute of Health, Bethesda, Maryland, USA. I was invited to attend the 'Cancer Researcher and CAM Practitioners: Fostering Collaborations; Advancing the Science' Conference from October 22 – 23, 2007.
--------------------------------
Meeting Dr. Bimal Chandra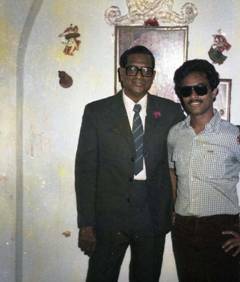 Dr. Bimal Chandra is the second Indian person to cross the 'English Channel' after Mr. Mihir Sen. Dr. Chandra was colleague of my father and a good friend of my late father-in-law Mr. Brojen Das. I used to call Dr. Chandra 'Jhatu'; he was a champion sport person. Besides swimming he was also a good cricketer, football and badminton player. Incidentally, he taught me how to swim. He was also a very good actor and spontaneous performer. He was also responsible for my marriage.
More on Dr. Bimal Chandra can be viewed from this link
--------------------------------
Meeting Moulana Syed Salman Husaini Nadwi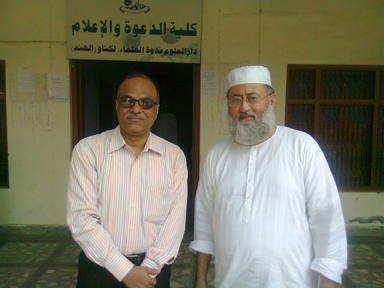 Moulana Syed Salman Husaini Nadwi was born in 1954, in Lucknow into a noble family of scholars. His lineage can be traced back to the Islamic Prophet through Hussein ibn Ali. He is a scholar and professor in the Islamic sciences. He is an author of numerous scholarly works in Arabic and Urdu. Salman Hussaini Nadwi is serving as the Dean of the Faculty of Shariah at the renowned Darul-uloom Nadwatul Ulama madrasa in Lucknow. Besides these he is also serving as the chairman of the Dr. Abdul Ali Unani Medical College and Hospital, Chancellor of Darul Uloom Syed Ahmad Shaheed – Katoli.
Source: http://en.wikipedia.org/wiki/Salman_Husaini_Nadwi
--------------------------------
Meeting Mr. Ruskin Bond
Sanghita, Sneha, Shaan and Sumit interaction with Mr. Ruskin Bond

It was in December of 2007 when Sumit and Shaan visited us in Dehradun. Shaan is a very big fan of Mr. Ruskin Bond. He and Sumi have read many books written by him. The Hindi movie Junoon is based on Bond's historical novel A Flight of Pigeons. Though I watched the movie long back, but I still remembered each scene from it.  So on Sunday, 2nd Dec we all went to Mussoorie to meet Mr. Bond. Mussoorie was around 50 km from our home and it took us around one and half hours to reach there. However, as Mr. Bond was not keeping well so at first he refused to meet us. After about an hour wait he finally agreed to meet at his residence. It was nice meeting him, Shaan asked him many questions regarding his writing. He was happy to answer them and he also told us that he has no connection with James Boond. A common question asked by visitors. We were there with him for about 20 minutes and enjoyed each minute of it.  

More on Mr. Ruskin Bond can be read from this site