Life in Kano, Nigeria
01, March, 2019
I came to Kano to join the Skyline University Nigeria (SUN) on 1st October, 2018, it was Monday and a public holiday. Though the city of Kano is quite big, but the airport was not very impressive. Anyway, there were some people from SUN to receive me. From airport with-in half hour I reached the international staff accommodation, which was 6 Abbas Road near the Race Course. The residential accommodation was quite nice and fully furnished. The university was around 4-5 km away from the residential villa and it took around 10-15 minutes to reach the university

Kano is the state capital of Kano State in North West, Nigeria. It is situated in the Sahelian geographic region, south of the Sahara. Kano is the commercial nerve centre of Northern Nigeria and is the second largest city in Nigeria. Over 4 million people lives in Kano and the principal inhabitants of the city are the Hausa people.Nigeria has a huge reserve of oil and natural gas. It is the largest producer of oil in Africa and the price of petrol here is Naira 140 (Rs. 28/-) almost two and half times less than India. Though very near to Sahara desert, the climatic condition of Kano is not very unpleasant, rather quite good. Except of few days of dusty haze the city is not very polluted.  The city is the capital of the Kano Emirate. The current emir, Muhammadu Sanusi II, was enthroned on 8 June 2014. He is incidentally also the Chancellor of Skyline University Nigeria.
Before coming to Nigeria,  I have couriered some spices and other food stuffs to Kano from India, after landing I found it was my mistake as all the Indian food stuffs and spices were readily available in many Super Markets around the city. I had to pay good amount of money for the spices as custom duty. Also there are many restaurants managed by Indian people serving good Indian food. For the first 3 days after coming to Kano I had my food from an Indian restaurantJalsa. The food was tasty and was prepared by Indian cook, and then I found that Jalsa was having a branch in SUN. Eating Indian samosa in Nigeria was indeed a great experience for me. For my daily shopping needs I hardly moved out of our villas as fish and vegetables vendor came to our door step and supplied us with fresh food items. However, the main market Sabon-Giri was around 6-7 km from our villa. Virtually all types of items are available over there. For establishing my kitchen I visited the market often with my colleagues Prof. Taneja and Prof. Pahari.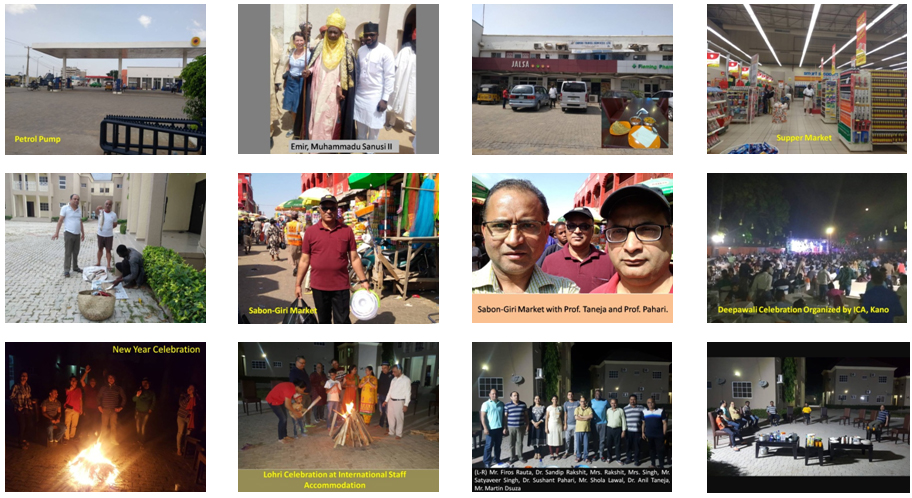 A good thing about Kano was that it was also home for many Indians. Some of them are living here for the last 40 years. Some Indians are hugely successful businessman having hotel/restaurant and supermalls. There is also an Indian Cultural Association (ICA), looking after various affairs related to Indians. The nerve centers of Indian affairs are two restaurants Celentro and Taj Mahal Hotel. There is also a temple near our house, where various Indian festivals are celebrated. The last Deepawali celebration organized by ICA was huge; there were over 1000 people attending the party.Some traditional Indian artist came from India to perform and there were many stalls for good Indian food.
In the international staff accommodation there are 8 double storied villas. We are around 15 people, mostly Indian, living there. So in-house parties are a regular features. Also we celebrated Deepawali, New Year and Lohri with full enthusiasm and excitement. The entire villa compound is covered with at least 15 feet wallso there is no security issue; moreover, we have armed security guards guarding the gate 24x7. The caretaker of the villas is Mr. Ibrahim, but we all call him Dogo (in Hausa it means tall). He takes care of all our small needs.

Based on my five months experience, I would like to rate Kano as follows:
| | |
| --- | --- |
| The city of Kano | : Very Good |
| Pollution level | : Low |
| The climate | : Good |
| Local people | : Nice |
| Transportation system | : Good |
| Work environment | : Excellent |
| Crime rate | : Moderate |
| Law & order situation | : Good |
| Drinking water | : Average |
| Water supply | : Good |
| Market | : Ok |
| Communication system | : Ok (4G available) |
| Electricity | : Poor (Power available only for 10 – 12 hours a day) |
| | |
------------------------------------------------
Visit to Minjibir Resort Park
23rd December, 2018
Minjibir Resort is a beautiful picnic spot about 40 km away from Kano. There is a big lake over there, so all our Indian staffs decided to go for a picnic on 23thDecember as the Christmas vacation started. The resort is a well maintained beautiful place. We spend the whole day over there relaxing. We had taken cooked food with us so there was no hassle of cooking, so only enjoyment. We also went for boating and some of us tried cycling. It was nice to see many Thomson's gazelle,whiteswans, tortoise,rabbits etc., in the resort.
------------------------------------------------
Life in Kano amidst Covid19 Lockdown
08, July 2020
Almost 2 years have passed by after I landed in Nigeria. Life has been quite enjoyable and peaceful till March 2020, then everything changed after the corona pandemic. The complete lockdown of Kano ensured that we cannot leave our residential camp for the last 3 months. Anyway, we are happy in our residential campus as the classes moved online and in the evening we can play badminton. Also the weekend parties though less in numbers did happen occasionally. After the online classes stopped and the semester ended, to kill time we had to indulge ourselves in online movies. I had seen quite a lot of web series and some good Hindi films. The city saw quite a fury of the Covid19 when it first arrived in the city. The death toll for senior citizens was very high in the first few weeks and then stabilized as happened in other places. It was sad to see a buzzing city like Kano deserted. My family in Mumbai informed me that the situation is even more serious over there. Few Indian expatriates in Kano and Lagos died due to Covid19. In between Prof. Taneja who wanted to go back to India availed the 'Banda Bharat Mission,' and reached India safely. He resigned from Skyline as he now wants to start his own business. In the last two years, many people joined and left Skyline University, so the farewell party has been a regular affair in our residential campus. Many things happened in these two years. Some important ones that are coming to my mind: Appointment of new Emir of Kano; India Cultural Association (ICA) Diwali celebration last year was done at the premise of Skyline University; Holi celebration of 2019 with Mr. Satyaveer and family; the birthday celebration party of Raman and Abhijeet and the revisit of the Minjibir Resort.