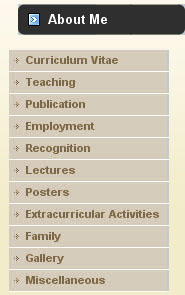 Education
My play school started from Stella Maris School, Garden Reach, Kolkata. I did my primary schooling from Railway Mixed Higher Secondary School, Kharagpur, one of the oldest schools of Kharagpur having a history of over 100 years. My middle schooling was from Hijli Higher Secondary School, situated in the IIT Campus, Kharagpur. I did my class XI study from Ideal Higher Secondary School, Bhopal.

In 1982, I joined Saifia Science College Bhopal for my graduation. I completed my graduation in Biosciences with specialization in Aquaculture & Environment, in 1985. Subsequently, I did my Masters in Genetics from Faculty of Life Sciences, University Teaching Department, Barkatullah University, Bhopal, in 1987.  I did my doctoral degree from the Indian Veterinary Research Institute (IVRI), Izatnagar. The Ph.D. program in IVRI was course and credit system. As I came from non veterinary background; hence, it took me almost 2 years to complete my theoretical studies. My PhD. research work involved 'Genetic characterization of indigenous Guinea fowl (Numida meleagris) germplasm.' As I was fresher to research, my guide Dr. Harpreet Singh took lots of pain to teach me the ABC of research. After about 3 years of rigorous research I could finally submit my thesis. I received my PhD. in in Animal Genetics in 1993. Thereafter, for my post doctoral research I got an opportunity to associate with late Prof. (Dr.) S S Agarwal in the department of Medical Genetics, Sanjay Gandhi Postgraduate Institute of Medical Sciences (SGPGIMS), Lucknow in 1993-4. However, my stay in SGPGIMS was short, due my ill health conditions caused because of an adverse drug reaction.

For almost 3 years i.e. from 1997 - 1999 I was associated with Dr. Asim Chatterjee, a renowned homeopathic cancer specialist of Kolkata. From Dr. Chatterjee I learnt about oncology and cancer management.

I also did a correspondence course on Alternative Medicine from Indian Board of Alternative Medicine (IBAM), Kolkata. However, this course is presently not recognized by the UGC / MCI.

For a brief period of time I worked in Indian Institute of Toxicology Research (Previously, ITRC) as post doctoral fellow (PDF). I again rejoined SPGPIMS in 2000 in the department of Gastroenterology as PDF. I was awarded a research project from the 'Lady Tata Memorial Trust,' to study the genetic aspect of gall bladder cancer. I did my research work in the lab of Dr, Balraj Mittal. Later, I associated with Prof. G Choudhuri, HOD, Gastroenterology in his various clinical projects on hepatitis C.

I also did a correspondence course on Postgraduate Program in Clinical Research, from Protonix Clinical Research Institute, Hissar.My keen interest in alternative medicine lead me to complete a regular diploma course in Naturopathy from School of Ayurveda,  Department of Yoga, D Y Patil University, Navi Mumbai in 2017.