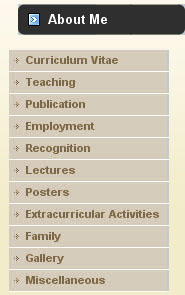 Life in CACM, Kharagpur
June 2016
I left Kharagpur in 1981 for my higher studies, and life after that was full of adventure and wandering. After leaving Kharagpur, I stayed in many cities for my studies & job. The cities that I stayed in the last 35 years were: Bhopal-Bareilly-Lucknow-Bhopal-Kolkata-Lucknow-Dehradun-Mumbai-Harar. Finally, again in 2014, I got a chance to come back and stay in Kharagpur as I got a chance to work in the Centre for Advance Communication (CACM). I have seen CACM from the budding phase to grow into a full blown tree from STEP, IIT, Kharagpur. Anyway, getting associated with CACM was a great experience. All the dedicated staff members of CACM are working tireless for the spreading of e-education, especially in the eastern regions of India. I was happy to be associated with them in the spread of education for the future generation.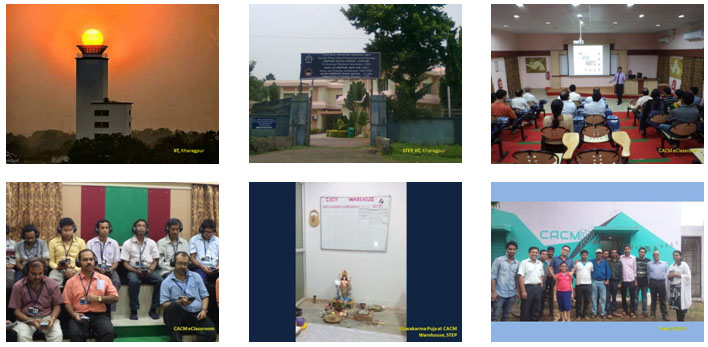 Stay at Kharagpur gave me a chance to meet many of my old friends and spend some quality time with them; I met some of them after almost 30 years. In the last 35 years Kharagpur has not changed drastically. However, many new developments have taken place in Kharagpur and the most notable among them is the flyover over the railway lines 'Puri Gate,' connecting IIT to Kharagpur town. But, the 'South Institute' cinema hall and the 'Waldrof' Chinese restaurant have closed down. The Waldrof chefs provided us some excellent Chinese food for almost 4 decades. I have eaten Chinese food in many places; however, 'Waldrof' was something very different. And the saddest aspect was that now Kharagpur has lost the world record of having the longest railway platform in the world. The city has also now become too crowded especially the 'Goalbazar.' The 'Mata Puja,' another interesting feature of Kharagpur is now celebrated with more enthusiasm all over the town and the numbers of pujas has also increased. I also visited the indoor badminton court in SERSA annexe, during my childhood days I have spend a considerable time over there. It was also sad to see Mr. Gyan Singh Sohanpal, the ex-MLA of Kharagpur [town] loosing the assembly election this year. I have seen 'Chachaji' winning election since my childhood days. He has won from Kharagpur a record 10 times. He was also known for his simplicity and honesty a rare phenomenon among the politician these days. However, this year at a grand old age of 94 years he lost to his young opponent. And for the first time we saw a BJP candidate winning from Kharagpur.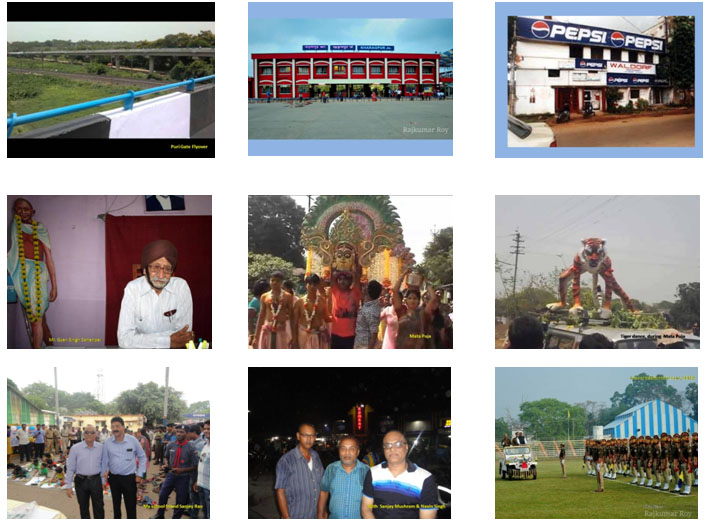 The stay in Khargpur also gave me an opportunity to spend time with my father; he is 83 years old now, but more active than me. At this age he is actively doing private practice and still going to 4 clinics in Khargpur for his practice, regularly. My dad purchased a plot in Kolkata when I was born 50 years back; however, the construct work of the house on that plot was taken up recently. It was a joint effort of my brother and sister-in-law that the construction work could progress unhindered. My participation in the construction work was very less as I was mostly away. Hope someday we all brother and sister can go and stay in that house.      

I have heard a lot about Mr. Yeshin Pathan from my brother; but, did not get a chance to meet this great gentleman. Recently, I visited his village 'Patra' near Midnapore and meet him personally. He was given the 'Kabir Award' in 1994 for forging communal harmony. Though being a devoted Muslim, he not only protected some old Hindu Terracotta Temples in his village from ruins, but, also compelled the Government to take up the restoration work of these temples. Due to his single handed efforts the conservation work was successful and these heritage structures have now got a new lease of life. Because of his efforts, his village has now become a tourist destination in South Bengal.